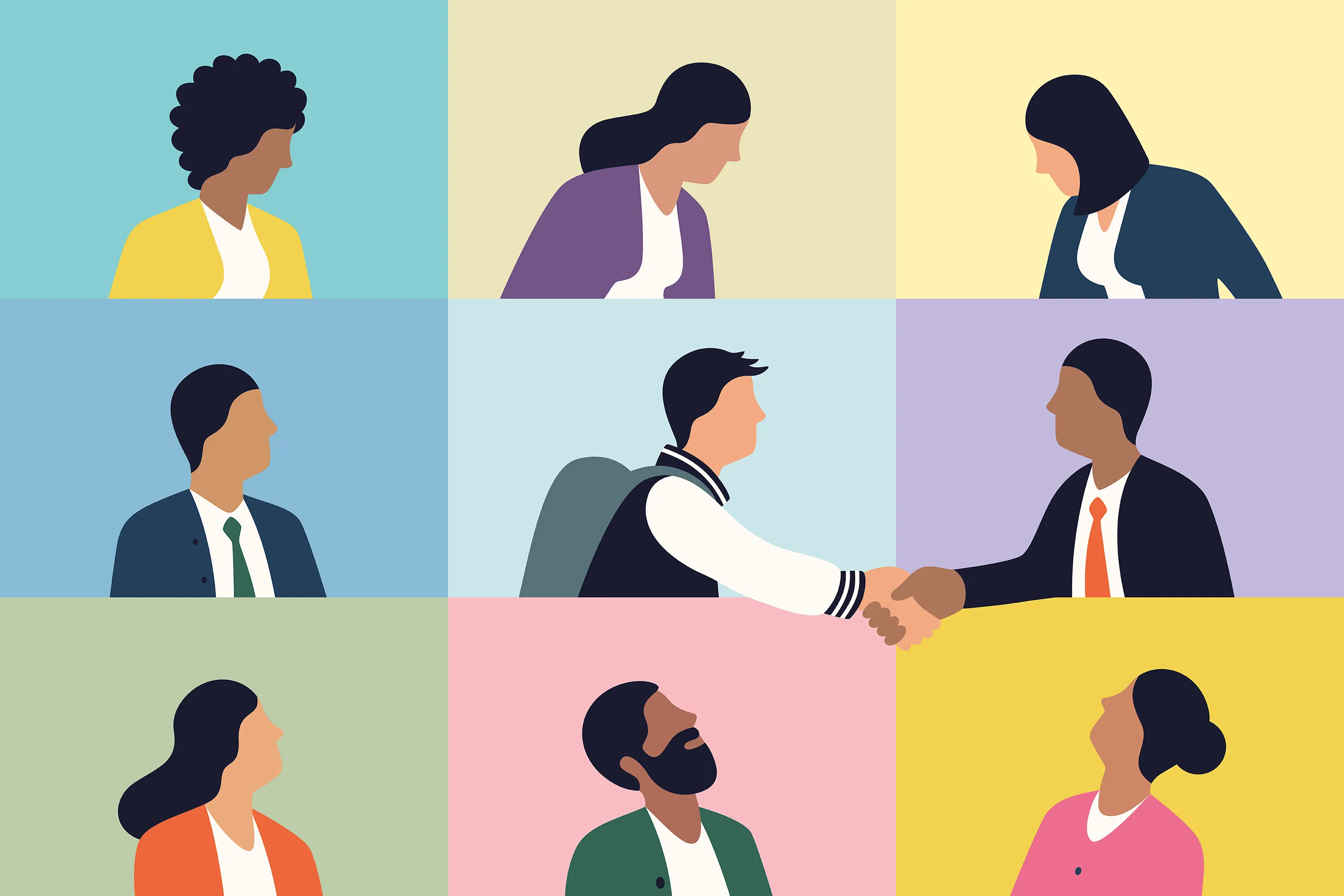 How you network during your career search involves how you show up. This is super important since this will determine how the conversation will go.
When you pick up your phone for a job interview or just to speak with an employer that you scheduled a call to speak with, first impressions are paramount. Why? Because the minute the first impression you give to that person, that's what they remember you by or as, and that first impression will determine whether you go to the next conversation or whether they want to have a follow up conversation with you.
For instance, you want to introduce yourself and initiate how you found out about the job posting. Express your interest and share with the employer on what you knew about the company. If the company is into serving the community, mention that. You want to be able to give the company a quick snapshot recap of who they were in your eyes and why you want to be a part of that brand.
The most common question that I am sure that you have been asked during an interview was, "Why do you want to work for Company ABC?" Make sure the things you mention are not just your interest but also what you know about them. This includes your response to how the company aligns with what they are doing, what their missions and values are and how you can relate/contribute to them.
You can say something along the lines of, "Company ABC stands for a lot of things that I believe in. I see that you do a lot of things in the community and for the community." Share relevant experiences that you have done in the past — say like a part-time job to pay off your student loans, internships, etc.
If you have worked for a job that involves youth and if everything Company ABC does in the community is helping the youth, that would be something good to share with them. So when they have a youth from the community saying they want to work for that company because they do that on such a larger scale, they would be excited to hear your motives and what you are driven by. "I want to gain experience", "I'm a quick learner", "I am able to multi-task".
Chances are, the employer will be intrigued by what you have told them and they will want to bring you in for an interview. Therefore, first impressions are paramount when you think about networking. The first minute that you show up, the first way they see you should make a positive impact in that moment. So it's in that moment where you can make a difference.
Many job seekers often think that networking can be thrown to the side once they land the job. Networking isn't over once you begin your job. It is crucial to continue building that relationship by following up and staying in touch with your connections. Being ready to experience new things and asking insightful questions to learn about someone are always helpful to keep the conversation going.
---
What is Effective Communication?
Communication is a process and there's so many processes we go through. If you break down the word Effective Communication:
Effective is defined as "successful in producing a desired outcome or intended result".
Communication is defined as "the imparting or exchanging of information or news".
Now if you bring those two words together, Effective Communication is defined as "verbal speech or other methods of relaying information that get a point across. It is also when you achieve a desired outcome by sharing key information or news. Simply put, it is being able to clearly convey a message to the other person."
So, what makes it effective — what is your desired outcome? And is the desired outcome of the conversation the intended results? That is important when you think about effective communication. We communicate in multiple ways everyday. But how you communicate is very important. Is it the outcome that you want to get it across to the other person or to the audience? And when you achieve that, you can see that you achieved that because you get results or immediate, instant feedback from the person or audience that you are talking to.
An example of an effective communication is when the person you are talking to — listens actively, absorbs your point and they understand it. You also need to listen in a way that gave the full meaning of what's being said and makes the other person feel heard and understood. It is a two way street — you are sharing, but you are also absorbing, and you are actively listening to the other person on their response.
---
What Are Some Barriers to Effective Communication?
Judging the other person — Sometimes when someone is talking to us, we are already deciding or thinking about the outcome/sizing them up.
Not paying attention to the other person you are talking to — This shows that you are not intently listening and this can distract you from conversing with that person and they can see if you are not paying attention.
Assuming intent of the other person — You are going to assume the message that the other person is trying to get across to you without listening to the person that is speaking to you.
Using technical language — One thing that has always been uncomfortable in effective communication is when people use jargon and words that we are not familiar with. This crosses a block in others not understanding or comprehension what message the person is trying to get across OR what you are trying to get across to the audience.

For example, a hiring manager/recruiter can refrain from using any corporate language (from within their organization) when he/she is trying to share about what the company is to the job seeker — who doesn't know fully anything about that company.
Some companies use acronyms like clothing brands to communicate internally that externals might not know, so that is when the full name/phrase/word will need to be elaborated.
Don't use technical language if you don't know if the other person knows it. You are really just trying to build a relationship with that person.

Providing solutions or unwanted advice — Sometimes, you can provide a solution to something and that person did not ask for the advice yet. This can be a quick way to deescalate the conversation and might end up cutting it short. Wait for the open door. Wait for someone to say, "Oh — what did you think about what I just shared with you?" Actively listen to the information that they are sharing and engaging you with. Let them open the door for any questions/opinions that they may have for you.
Avoiding the concern of others
Not having an open mindset going into the conversation
---
What Happens in a Conversation When We Communicate Effectively?
Nodding your head — showing the other person that you completely understand
Builds and fosters a great relationship with others
Builds better trust
Increases your engagement — People want to ask questions. It becomes more of a conversation rather than just a topic of effective communication.
Improves productivity
Provides clarity and direction — If it's communicated clearly between you and the other person, it will be executed exact on what needs to get done. If there is no clarity or direction, this will lead to more questions — as a clear indication that you did not understand, nor did you actively listen in that conversation of the initial communication, or the statement made by the other person was not clear enough.
Promotes team building
---
Effective Communication Skills
Active listening
Being aware of non-verbal communication

As you are communicating, you are paying attention to their body language. If you are communicating and someone is looking down, that's saying that the person is not engaged with you right now; they're not with you; they're not understanding what you are saying. Also, there could be a possibility of that person not being open to what you are sharing.

Asking questions

When you are communicating effectively, you can also ask questions and the other person can ask questions as well to ensure that engagement is happening two-way.

Be clear
Clarify & Summarize
Be empathetic

Especially when it comes to someone else's opinion
Be empathetic as well when you are sharing out information.

What are you communicating?
Is the information that you are communicating — is it for everyone? Or are you leaving certain people out?

Be inclusive in your communication

Give feedback and be open to it

Feedback is a gift. People will always give you feedback whether you want it or not. Sometimes

Be honest

Always be authentic and be your true self while you are being your professional self.

If you are in an environment where you are in an interview, the way you communicate is super important. There are words that you wouldn't use in an interview that you would when you are communicating casually with friends/family.

Control your emotions
Listening is a skill that not too many people do well on. And it's because people listen to respond versus listening to understand. If someone is communicating to you and sharing an idea/thought or even introducing themselves, you don't want to interrupt them. You want to continue listening to them so that they can have their moment of their introduction. When it's your turn to speak, then it's your turn to speak.
There is a moment where there is someone on the other side who will say, "Hey do you have any questions for me?" and that's when you can ask the questions and anything that you need more clarity on. However, when we listen to respond, it doesn't have the conversation to flow easily. It doesn't help the conversation. It makes it like a roadblock and a barrier because they are sharing potential opportunities and you are not listening to their perspective. It's not always your perspective, it's someone else's as well.
You need to have an open mindset when you go into any conversation.
---
5 C's of Effective Communication
Important for not just in the workplace or job search but also in daily life.
Clarity — Be clear
Consistency — Be consistent with your communication style. Show up consistently. Don't give different communication styles. Be clear and stick to the information that you are sharing. Don't share one information with one group, and then change your complete content on what you are sharing with another person.

If you are consistent with your connection, they will have to be consistent with you.

Creativity — Be creative in your approach. You will meet different people (networking).

Are you creative in the way that you are connecting with this person?
Every person requires a different approach. You won't be able to just say the same thing to different people. You do have to curate that message and tailor it into your person and audience.

Knowing your audience is very important when you are communicating to that person or your audience.

Content — Make sure the content is relevant to what the other person wants to know. Or make sure it's content in reference to content. Make sure what you are sharing makes sense.
Connections — The connections that you make are super important. Even in that communication when you are connecting with — what is the impression that you are going to leave for that other person
---
How to Be a Better Communicator
Be slow to speak, but quick to listen
Practice your speech in front of a mirror
List down your affirmations and manifest them
Be clear
In a job interview, if the interviewer asks the interviewee — "Tell me about yourself", that is the moment for you to get your elevator pitch. Your elevator pitch would need to stick to the question and not go off into something else. Practicing would help your elevator pitch be delivered in the right way.
Example: "Hi my name is ______, I work in recruiting services. I applied for this job because I saw all the work that you have been doing behind the scenes for candidates. The candidate experience is super important to your brand. I am very interested in learning how to expand on my knowledge in how the candidate experience shows up from your company's point of view. I am very excited to be here today to learn more. I am ready and eager to learn."
Just being able to share that upfront when you have that moment to share who you are.
Have a plan. Go into the conversation with an agenda so that you don't digress. Stay on top to apply your outcome. Have an agenda on whatever you are going to talk about today. That way, people will have an idea on what you are going to be talking about, that you execute everything that you want to execute, and that you and your attendees walk away knowing the content that both parties discussed about.
---
Career Networking
Networking is defined as "involves using personal, professional, or academic contacts to assist with a job search. Networking can be a good way to hear about job opportunities or get in at a company you'd like to work with."
You find out information when you seek information, so it involves you actively reaching out to someone else who has the job that you want or works at the company that you want to work for. It also involves you using some of your personal and professional contacts. There's people that you will meet everyday that will become a part of your network. As you meet someone, they become a part of your network. That could be from social media, in-person event, phone, LinkedIn, or any kind of online platform.
If you master networking, a cool tip to remember is to start with what you know. You will have a different approach every time to someone that you meet. Knowing the time and place is important. There's a time to network, there's a time to say "Good morning, my name is Michelle" and keep it moving.
For example, you are at an event. You are showing up to the event. There is a room of people, you are at the door and you are trying to get inside the event, and someone walks up to you at the door and greets you. If they are trying to network with you at that time, that is not the time to network. You will be blocking the entrance while others are trying to get into the door to the event. That is not the right time nor the right place.
Let's say you are at a job fair. You walk around the room and you get to meet different employers. That is absolutely the right time to network. Networking with the golden mind of not taking up too much of that recruiter's/team's time by knowing when to move on to the next table. State your name, what your interests are, "here's my resume", or "I applied online". Any quick facts that you could share with the HR team and anything that you think would be good for them to know about you, say it at the table. Grab the employer's business card and gifts if there are any freebies left out on the table, and come back.
The recruiter's most likely going to say, "If you have time, I am so sorry because the line is so long. I am trying to get to everyone but if you have a minute, come back to the table and let's talk again." But it's all about how you predicate and present yourself to the recruiter because it let's them know and gives them the impression if they are sparked to have another conversation with you or not.
---
Benefits of Networking
Develop your career
Build your personal brand — How do you show up? How you show up is how they will perceive you. When you show up at a networking event, you don't ask for a job. You ask for information. When you're at a job fair, that is the time for you to talk about a job. But when you are at a public event, and you are seeing someone in the room that you have always wanted to talk to, don't ask for a job — ask for information.

Example: "Hi my name is ____. I'm not sure if you remember who I was from last time. I was the person who did the community event with you … (and so on) I've always wanted to know, could you tell me a little bit about what you do, so could you share what it is that you love most about your brand/company? Or a little bit of the work that we did together last week?"
Re-evaluate your qualifications — After networking with someone, they may share a nugget about that job and that could leave you with — "Wow I didn't even think about that.. I would need to re-evaluate the qualifications that I may have left out of my resume because I thought that I would need to leave Volunteering off my resume. But he just told me that he volunteered at 3 city jobs, and that was what helped him get the job."
Support from your community — Having a community — and that is a community of people that you met. That helps you to get more support and more people for you to go to and get advice from.
Raise your profile — If you are on LinkedIn, and if you are not — you should sign up. It is the #1 career networking platform. People get to know you because you are adding people, building your connections and it raises your profile to the level of "Wow this person is connected to this person I know." When people see that you are connected to these people, it helps to raise awareness and they will want to reach out to their connection who knows of that person that they want to get to know more about.
Get fresh ideas — Sometimes, when you are networking — you learn new things from somebody else in the conversation and that's a part of re-evaluating your qualifications.
Gain more knowledge
Get career advice
---
Do's and Don't's of Networking
Knowing a time and a place — Don't corner someone at a door or in an inappropriate place where you can't network and it prevents them from moving.
Let them be the person to want to talk to you. Do not force the conversation if the person is not engaged, or if you did not build that initial contact or relationship.
Have your information ready. Don't introduce yourself and blank out when they ask you to tell them about yourself. Be ready. When you network, you need to have your stuff ready. You want to make a good connection. You are exchanging business information — such as a phone number or email. Don't take it personal if they do not want to give out a phone number. They may not have a phone number. They may just communicate via email.

Be empathetic to some of those barriers/things that may be

Leverage social media. Such as, getting on LinkedIn. If you are not on that platform, you will need to sign up. Create your profile, have your resume, have a line up of who you are, the interests you have, etc. Get that polished and then start adding to your network.
The most important part of networking is TALKING. If you are afraid to talk to someone else because you are shy or introverted, it is highly encouraged that is to get in front of the mirror and practice.
Another important part of networking is FOLLOW UP. You meet great people everyday and you never talk to them again. You have to keep the conversation going. Say "Hi, I'm not sure if you remember me. Just checking in to see if there's any opportunities" and this can be via email. That is to keep the networking going and this gets the person to remember you. You want to have a network that is not going to let you go, and instead keep you in the loop.

Even if you don't get a job with them or you don't get the outcome that you really wanted, it still shows them that you are a real person and that you want to keep this network/conversation going.
Share a success story when you met with someone, because with your story — you can help to empower someone else and they will totally understand you. They will understand some of the things you have faced as a candidate. Maybe it could be applying for a job, or some of the things that you have implemented on your last job so that they'll get who you are as a person. It's not always about the professional aspect. It can be the little things — likes/dislikes that your network can relate to about you. That can bring your network closer to you.

If you are networking virtually like on Google Meet or Zoom, it is encouraged that you have your camera on because people will get to see you and the conversation becomes more meaningful and interactive. It shows that you are present, engaged and fully paying attention. Make sure your background is not distracting. Connection is through eyes — eye contact. This allows us to learn from each other.
If you don't know how to start a conversation, you can lead it with an ice breaker! This gives the opportunity for people to introduce themselves.